Transferable Skills-Set for a Successful Career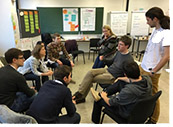 Scientific education and academic experience do not necessarily lead to a skill set that supports career development in science, industry or commerce. To give our PhD students the ability to transfer their academic knowledge to non-academic contexts we set up the PRISMA+ Graduate Program.
The Program offers a variety of courses that support our doctoral candidates to further develop their transferable skill set. It is designed as an additional qualification during their doctorate at JGU.
Workshops and Seminars

Complementary Skills Workshop: "Poster Design & Poster Communication"
Starting in mid-September 2018
In particular for doctoral students, presentations of research findings on posters offer a good opportunity for introducing their own work at conferences in a focused manner and engaging a scientific dialogue. This entails two challenges: On the one hand the poster should be designed to that it "works" without an in-person explanation and represents the reponsilble individuals in a positive manner. On the other, the objective of the actual poster session is to clearly illustrate one's own expertise without seeming arrogant or unsure of oneself. Many long-standing research co-operation groups started in front of poster boards. ...
20.09.2018 - 21.09.2018
Complementary Skills Workshop: "Reach your Goals"
Systematic creativity describes the conscious process of creative thinking when trying to solve a problem or realize a given goal. Together with principles found in agile development, it can be a powerful tool to overcome obstacles on the way to your personal and professional success. The skills associated with this training can be applied alone or in a group setting, which also makes them highly relevant when working in a team. ...
15.11.2018 - 16.11.2018
Complementary Skills Workshop: "Publishing Research Results in English"
This workshop concentrates on developing writing skills and strategies to improve one's professional writing. In order to obtain this, the writer needs to be aware that there are expected norms for various structure and language found within a text. Mastering and utilizing these norms produce a text that the reader is capable of understanding the intended message of the author. ...
06.12.2018 - 07.12.2018
Effective Body Language & Communication for Job Interviews & Presentations
Self-Presentation in the way of showing your strength confidently and authentic at the right moment is an art that has to be practiced. This seminar will provide for essential skills in order to establish a convincing manner and appearance. You will learn the seven guidelines of dynamic Body Language & Communication, which includes the importance of facial expressions, gestures, posture, breath, timing and voice that apply in professional communicative situations like job interviews or presentations. ...