Welcome to the Press and Public Relations area of the Cluster of Excellence PRISMA+ at Johannes Gutenberg University Mainz. Here you can find the latest press releases and event announcements.
In the "Magazine" section we publish portraits of our scientists and their research. This section is continuously supplemented with current information or media.
If you are interested in interviewing one of the PRISMA+ scientists we will be happy to assist in finding an appointment. If you want to know more about our school programs, please contact us.
Dr. Renée Dillinger-Reiter
Dr. Jan-David Nicolas
Upcoming Events
23.05.2020
PHYSIK IM THEATER (IN GERMAN)
Prof. Dr. Pedro Schwaller, Das frühe Universum hören: Suche nach neuer Physik mit Gravitationswellen
Past Events
05.02.2020
TALKSHOW CAMPUS MAINZ - Role Models share their Journey
Fellows of the Mainz Physics Academy of the Cluster of Excellence PRISMA+ have launched a new series of events: Under the title "Talkshow Campus Mainz" they invite renowned guests who will share their professional and personal journey with the audience.
For the premiere of the series on February 5, 2020, the hosts Bianka Mecaj, Jan Weldert, Marius Köppel and Victoria Durant welcome two company founders from Frankfurt: Maike Benner and Lilli Rohde - originally from the financial sector - founded the international consulting & coaching company MaLish two years ago.
All interested parties are cordially invited.
14.02.2018 - 23.03.2018
Master Academy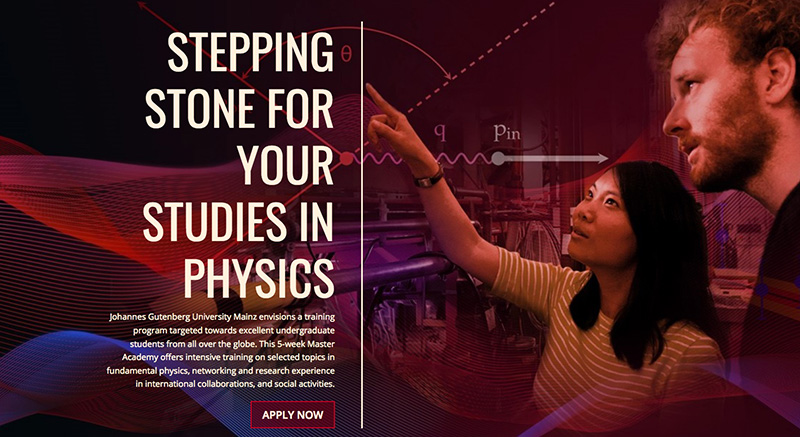 Just finishing your B.Sc.? Thinking about graduate studies? How about taking a 5-week programme (without tuition fees) that provides intensive training in fundamental physics with lectures and mentoring by leading scientists, the opportunity to network with international researchers, and an individual lab course to work on your own project, as well as an optional language course and cultural programme? Travel and accommodation grants are available. Apply by 15th December 2017.
12.03.2018 - 16.03.2018
PRISMA SCHOOL 2018 | Photosensors and Signal Processing in Particle Detectors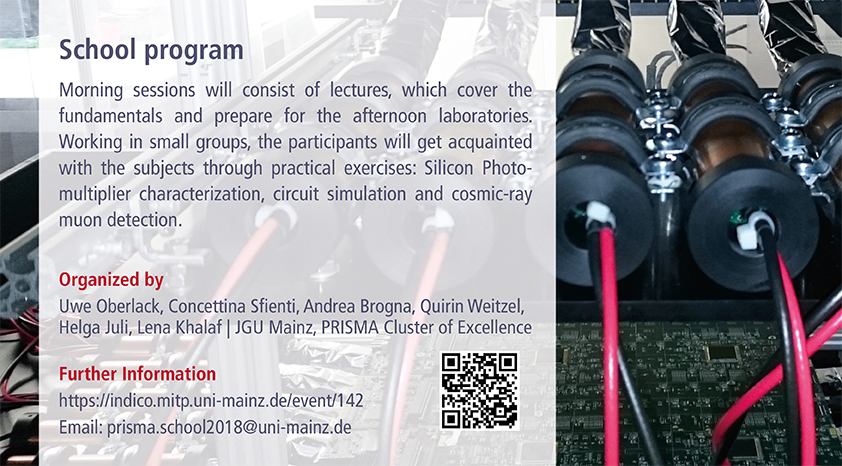 24.10.2017 - 30.11.2017
EXHIBITION - AUSSTELLUNG | Vom Sichtbarmachen des Unsichtbaren

...
07.08.2017 - 12.08.2017
Mainzer Teilchenphysik Akademie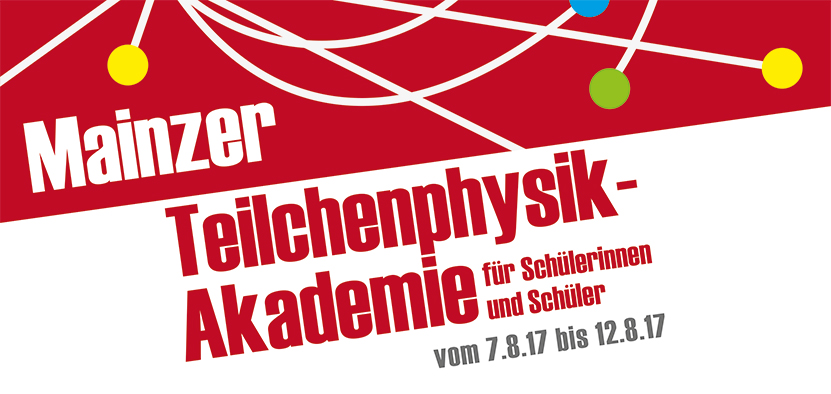 ...
26.06.2017 - 29.06.2017
PHIPSI 2017 | International workshop on e+e- collisions from Phi to Psi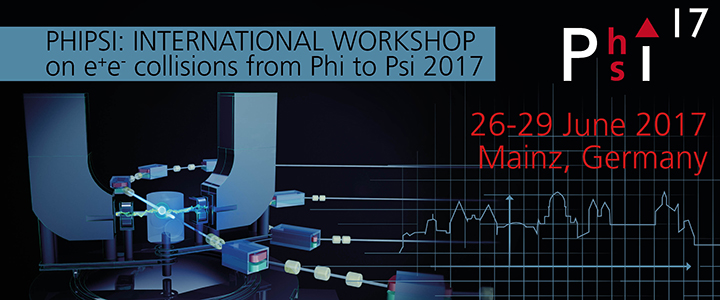 Bild-Urheber: Niels Paul Bethe - MESA Animation; Gestaltung: artefont
The 11th edition of the "International workshop on e+e- collisions from Phi to Psi" (PhiPsi17) is organized by the Institute for Nuclear Physics of the Johannes Gutenberg University of Mainz and will be held at Schloss Waldthausen, an early 20th century mansion located in the forests at the north-western Mainz city limits, on June 26-29, 2017.
PhiPsi17 is the continuation of the biennial workshop series, started in Karlsruhe (1996) and in Novosibirsk (1999). The aim is to bring together experimentalists and theorists to review in detail the status of hadron physics at low energy accelerators, share new developments, and discuss the potential of existing and future facilities. ...
11.06.2017
GUINNESS WORLD RECORDSTM | Weltrekord für Mainzer Physiker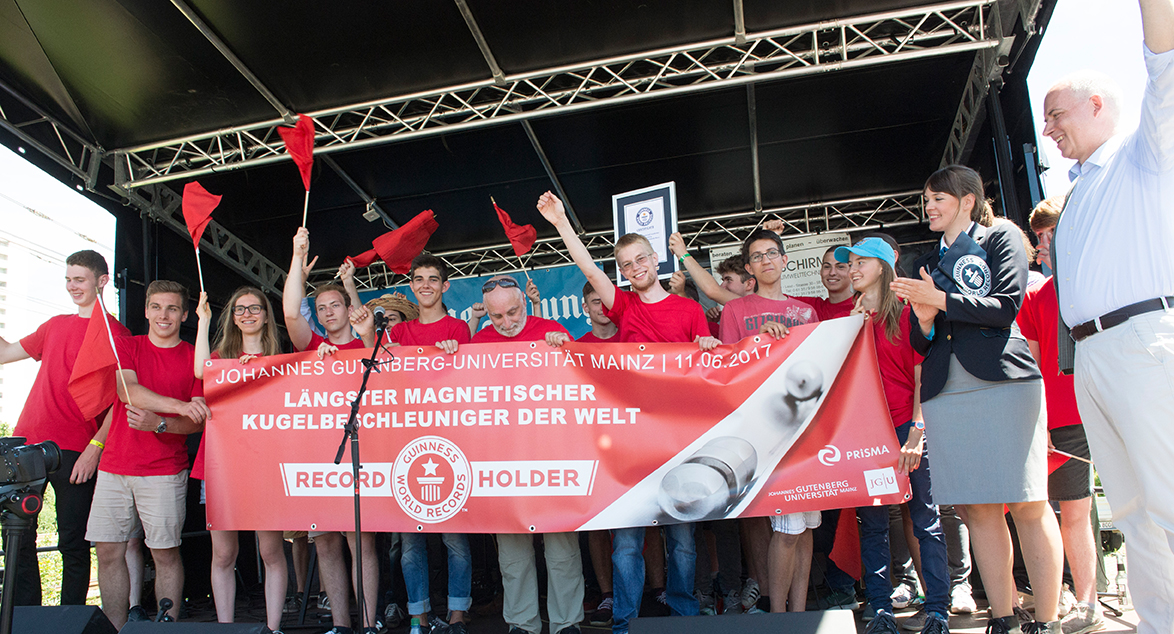 Physicists at Johannes Gutenberg University Mainz (JGU) have achieved an official Guinness World Records™ world record by building the world's longest magnetic ball accelerator over a distance of 546 metres. The record attempt was organized by the PRISMA Cluster of Excellence in cooperation with two local schools, the Rabanus-Maurus-Gymnasium and the Otto-Schott-Gymnasium, and was officially promoted by the Rhineland-Palatinate state minister for Education, Dr. Stefanie Hubig, and the state minister for Science, Continuing Education, and Culture, Prof. Dr. Konrad Wolf. ...